Maintenance and use of company and decision-maker data for marketing purposes
Asiakastieto maintains a comprehensive private database on companies, corporations, associations, foundations and administrative organisations. In addition to basic and background data of organisations, also decision-maker data is maintained in the database based on person-in-charge position or so-called status authorisation.

1. Maintenance of data
In addition to own data acquisition, Asiakastieto uses only reliable, public data sources in the maintenance of its database.
Public data sources
Company and decision-maker data are updated to Asiakastietos database from numerous public sources on a daily basis, such as the Business Information System and the Finnish Patent and Registration Office. The data comprise basic and contact data of a company or organization (e.g. name, Business ID, visiting and mailing address, phone number, e-mail and web address) and background data (e.g. branch of industry and class data).

Companies as data source
When the companys or organisations number of personnel is over 9 persons, Asiakastieto contacts the company to update the decision-maker data. The data are updated by phone or e-mail at least once a year. The data comprise the first and last name of the decision-makers working in the company, their sphere of responsibility and contact data (visiting and mailing address and e-mail address).
2. Processing of data
The company and organisation data obtained from public sources and companies themselves are processed for the use of electronic marketing by adding to the company data the persons in charge of the organisation (e.g. managing director, deputy managing director, trader and liable partner). The companys other decision-makers are added to the company data on the basis of 16 spheres of responsibility (e.g. decision-maker responsible for sales management, responsible for risk management, or responsible for certain acquisitions).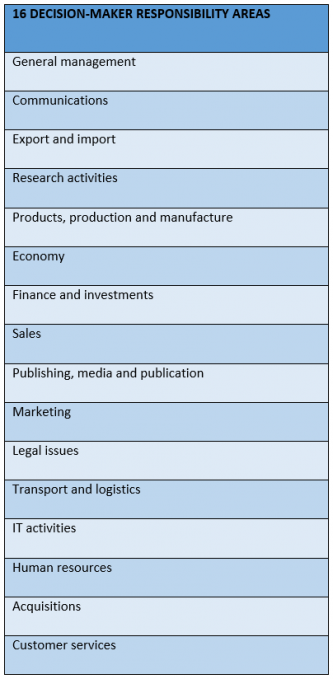 3. Disclosure of data
Asiakastieto discloses the above-mentioned data for the maintenance of customer registers of its clients or for marketing purposes either via Selection Service or Target Group Service.
In connection with marketing use, the client is instructed to read the B2B Email Marketing Guidelines of ASML. The subject of decision-maker data has the right to forbid the disclosure of their data to direct marketing use by informing Asiakastieto's customer service: asiakaspalvelu@asiakastieto.fi
4. Use of data
When Asiakastieto discloses company and decision-maker data to the use of its corporate client, the client becomes the administrator of the register data. The administrator is liable for the data to be up-to-date in the register. Should the administrator fail to see to the freshness of data and the register contains outdated and even false addresses or the register is used for spamming, the risk to be entered into the black list of the e-mail server is high. It is important to make sure that the own or bought customer register is up-to-date and that the target group used is defined as accurately as possible.
» View the descriptions of file