Most companies strive to create growth and productivity, but not everyone can achieve it. Asiakastieto's Growth Certificate is a confirmation that your company has done a good job. The certificate can be proudly shown to business partners and competitors as it proves that your company is a significant player in the market.
This is a new Nordic product that utilizes common criteria for companies operating in the Nordic countries and measures the company's profitable growth. The Growth Certificate shows that the company is one of the few growth companies, as only about 10% of the companies meet the criteria for granting the certificate. The criteria are defined in the same way in all Nordic countries. When issuing a growth certificate, the following information about the company is measured, for example:
Company's age
Risk class
Equity ratio
Profitability
Turnover for the two previous financial years
Turnover growth

The Growth Certificate increases confidence in your company and helps you stand out in a highly competitive market. The certificate allows you to strengthen your company's brand and prove that you are an excellent business partner.
With the Growth Certificate, you show the success of your business
Different product packages are available from the Growth Certificate, depending on how widely you want to tell about your success. You can compare the features of the product packages from the table below. Our experts will help you choose the package that works best for your business.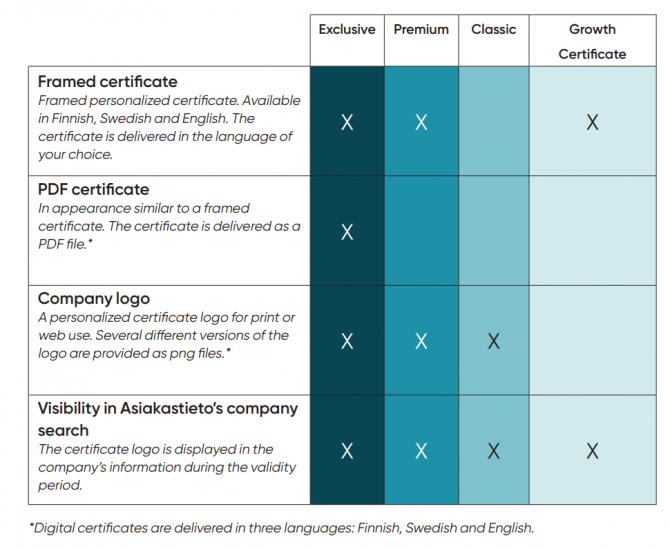 The certificate subscription can be placed as a subscription valid for the time being or a one-time subscription. A subscription valid for the time being is valid without renewal until terminated. The subscription requires that the Nordic growth criteria are met at the start of the new subscription period.
Guidance and inspiration for using the certificate
Tell about your company's certification in a variety of ways in your company's communications. Read here instructions for the implementation of Growth Certificate and tips for using it in your corporate communications.